Accessorio COOLER MASTER R4-ACCY-RGBS-R2 Trident Fan cable (1-to-3)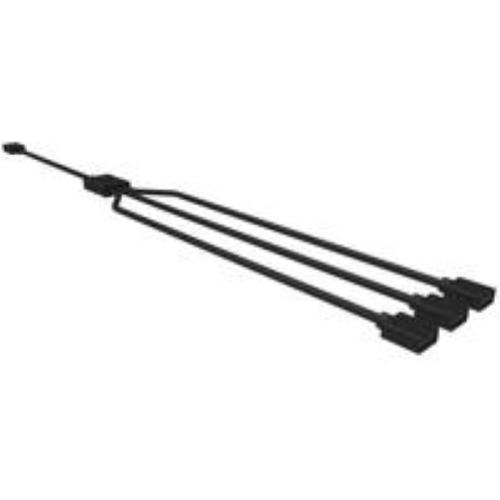 Prezzo:

€

9,50

Iva inclusa (22%)

Cod. art.:
R4-ACCY-RGBS-R2
Marca:
COOLER MASTER
Cod. Produttore:
R4-ACCY-RGBS-R2
EAN Code:
4719512059890
Condividi:
Disponibilitą:

Disponibile (29 PZ)

Spedizione 3gg lavorativi (18 PZ)

Spedizione 4gg lavorativi (11 PZ)

Quantitą:
Descrizione
Limitless Possibilities
The 1-to-3 RGB Splitter Cable allows users to extend multiple RGB LED fans and strips to build up aesthetically beautiful lighting systems. It is both capable of connecting with standard 4-pin RGB header and 5-pin RGBW header without an adapter. Also with the length of 58 cm and very flexible material, you can get the lighting that you want with none of the hassle. It is certified compatible with top RGB capable motherboards in the market.
Features:
Long and flexible
58 cm in length and flexible material make it easy for cable routing. Keep it effortless and hassle free.
Daisy-chaining capability
1-to-3 ways splitting for your freedom to connect multiple RGB fans or LED strips. By daisy-chaining them the possibility increases even more.
Reliability
Beyond the look , we provide quality. With high-quality material , keep your build flawless and reliable
5-pin and 4-pin RGB header compatibility
Special design connectors make it compatible with both 4-pin RGB header and 5-pin RGBW header without requiring any adapter.
Specifications:
Product Name
1-to-3 RGB Splitter Cable
Product Number
R4-ACCY-RGBS-R2
Cable material
PVC
Pin contact Material
Brass
Color
Black
Total Length
58 cm
Connector type
4-pin (12V,G,R,B)
Connector withstanding voltage
300 V (min)
Pin rated current
3A
Pin operation temperature
-40◦C -105 ◦C
Warranty
2 years
EAN code
4719512059890
UPC code
884102032554
Net weight
0.04 kg
Gross weight
0.055 kg
Carton dimension (L x W x H)
4.3x3.5x11.5 cm