CPU AMD RYZEN 5 5600G 3.9GHz(4.4GHz boost) 6CORE 16MB 100-100000252BOX AM4 65W BOX - Garanzia 3 anni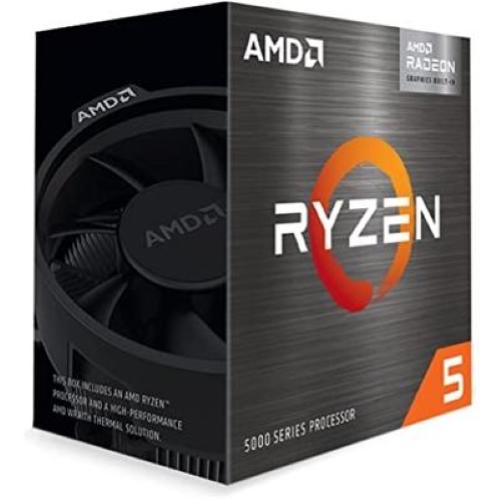 Prezzo:

€

161,80

Iva inclusa (22%)

Cod. art.:
730143313414
Marca:
AMD
Cod. Produttore:
730143313414
EAN Code:
730143313414
Condividi:
Disponibilitŕ:

Disponibile (1 PZ)

Spedizione 4gg lavorativi (1 PZ)

Quantitŕ:
Descrizione
General Specifications
Platform: Boxed Processor
Product Family: AMD Ryzen™ Processors
Product Line: AMD Ryzen™ 5 5000 G-Series Desktop Processors with Radeon™ Graphics
# of CPU Cores: 6
# of Threads: 12
Max. Boost Clock: Up to 4.4GHz
Base Clock: 3.9GHz
L2 Cache: 3MB
L3 Cache: 16MB
Default TDP: 65W
AMD Configurable TDP (cTDP): 45-65W
Processor Technology for CPU Cores: TSMC 7nm FinFET
Unlocked for Overclocking: Yes
CPU Socket: AM4
Thermal Solution (PIB): Wraith Stealth
Max. Operating Temperature (Tjmax): 95°C
Launch Date: 4/13/2021
OS Support:
- Windows 11 - 64-Bit Edition
- Windows 10 - 64-Bit Edition
- RHEL x86 64-Bit
- Ubuntu x86 64-Bit
*Operating System (OS) support will vary by manufacturer.
Connectivity
PCI Express® Version: PCIe® 3.0
System Memory Type: DDR4
Memory Channels: 2
System Memory Specification: Up to 3200MHz
Graphics Capabilities
Graphics Model: Radeon™ Graphics
Graphics Core Count: 7
Graphics Frequency: 1900 MHz
Product IDs
Product ID Boxed: 100-100000252BOX
Product ID Tray: 100-000000252
Product ID MPK: 100-100000252MPK
I clienti che hanno acquistato questo prodotto, hanno scelto anche questi articoli