ALIMENTATORE ATX ITPSEBD500 BD500 - 500W, 80Plus Bronze, PFC Attivo, Ventola HDB 12cm, DC to DC Fino:31/03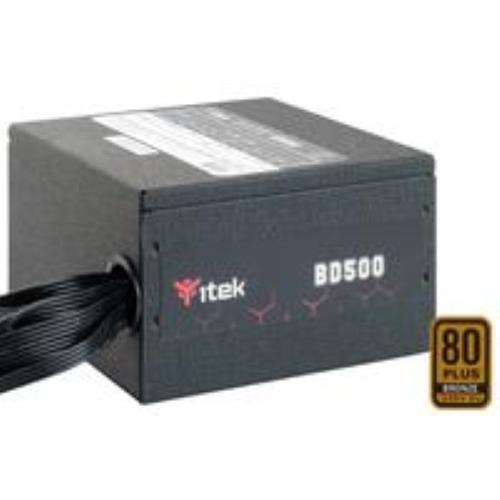 Prezzo:

€

39,20

Iva inclusa (22%)

Cod. art.:
ITPSEBD500
Marca:
ITEK
Cod. Produttore:
ITPSEBD500
EAN Code:
8056157881094
Condividi:
Disponibilitŕ:

Disponibile (189 PZ)

Spedizione 3gg lavorativi (178 PZ)

Spedizione 4gg lavorativi (11 PZ)

Quantitŕ:
Descrizione
Alimentatore BD500
500W, 80Plus EU Bronze, PFC Attivo, Ventola HDB 12cm, DC to DC
Gli alimentatori della serie BD sono disponibili con potenze da 500W, 600W e 700W e un efficienza dell'88% al 50% di carico la quale ha permesso di ottenere la prestigiosa certificazione 80Plus® EU Bronze.
Questi PSU, con regolazione DC to DC, semimodulari "free plug†(nelle versioni da 600W e 700W), sono dotati di PFC attivo e dispongono di comodi cavi flat, di una ventola silenziosa da 120mm "hydraulic bearing†con controllo termico, di chassis con effetto "ruvido†anti graffio e di condensatori Taiwanesi Teapo 105c.
Tutti dettagli che rendono questi alimentatori estremamente affidabili, silenziosi e di ottima qualitĂ .
Gestione energetica
Potenza totale
500 W
Tensione di ingresso AC
230 V
Tipo di correttore del fattore di potenza (PFC)
Attivo
FunzionalitĂ  di protezione dell'alimentazione
Sovracorrente, Sovralimentazione, Sovraccarico, Cortocircuito, Sotto carico
Design
Colore del prodotto
Nero
Tipo di raffreddamento
Attivo
Diametro del ventilatore
12 cm
Numero di ventole
1 ventola(e)
Interrutore On/Off
Sì
Prestazione
Utilizzo
PC
Fattore di forma dell'unitĂ  di alimentazione (PSU)
ATX
Certificazione 80 PLUS
80 PLUS Bronze
Versione ATX
2.31
Tempo medio tra guasti (MTBF)
100000 h
ConnettivitĂ 
Connettore scheda madre
24-pin ATX
Connettori periferiche (Molex) (4-pin)
2
Numero di connettori SATA
7
Connettori PCI Express (6+2 pin)
2
Dimensioni e peso
Larghezza
160 mm
ProfonditĂ 
150 mm
Altezza
86 mm
Peso
2,11 kg
Dati su imballaggio
Peso dell'imballo
2,7 kg